Over the years Elmer Catering has built up a very loyal client base all of whom love our hog roast in Swindon, Bath, Bristol and all over the South West. Contact us today for the most delicious hog roast in Swindon or the South West region that you have ever tasted! We have an interesting history which started over 25 years ago…
I left school when I was 16 years old and started working with my father as a builder. After slogging away for 5 years doing all the jobs that he didn't want to do, I decided enough was enough and to branch out on my own. I tried all sorts of jobs from doctor to astronaut and anything in between but couldn't get my teeth into anything in particular. Feeling a bit down in the mouth, I decided to drown my sorrows and booked a day at Epsom Races with my partner. On arrival, we searched for something to eat and followed a delicious aroma that led us to a tiny stall selling, you guessed it, a hog roast! I knew immediately that this was what I wanted to do.
Once home, I started wondering how I could improve upon the little hog roast stall I had seen hidden away in a field in Epsom. All sorts of questions raced through my head including "Where could I get hold of an oven?", "How long would a hog take to roast?" and, most importantly, "How do I get started?"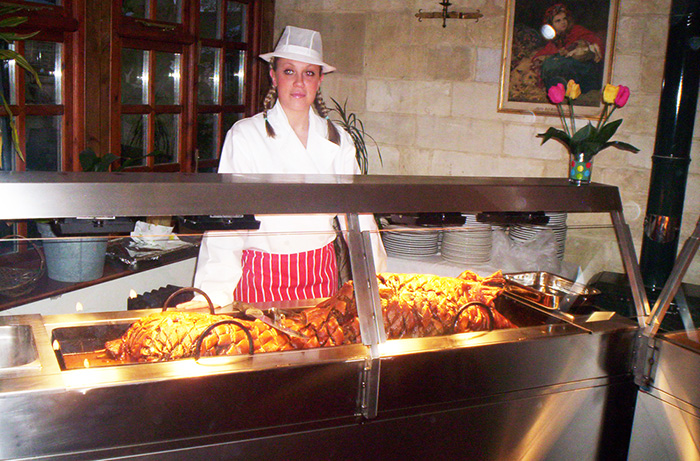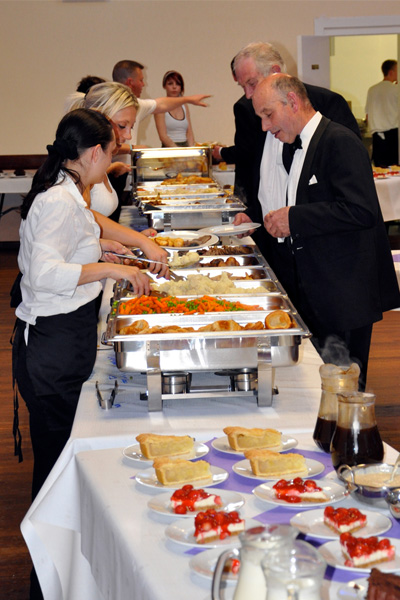 After a few more restless nights I decided I would make my own spit roast oven as you couldn't get hold of them off the shelf. So, drawings in hand, I approached a friend of mine who could weld and after a few days trial and error, between us we had built my first oven, also known as 'Dracula's Coffin' and it weighed a tonne!
For my first attempt at cooking a hog roast, I rashly promised the local pub a cooked pig for free. After watching the hog roast like a hawk for 8 hours, it was finally cooked and looked better than the roast I had seen at Epsom Races! Now for the taste test though and with my fingers crossed I handed a portion to the first customer….
After 2 hours or so of careful carving, everyone had been served and I set about clearing up before going inside the pub for a well-earned drink. I was surprised and then thrilled as everyone said the roast had been delicious. My friend said I should definitely go into business selling pork rolls and I even took my first couple of genuine orders….and that's how it all started!
My first handmade oven nicknamed 'Dracula's Coffin' cooked the hogs to perfection! From here we have progressed to providing a huge variety of carveries as well as the traditional hog roast in Swindon, Chippenham, Bath and Bristol areas.